Why our Indoor Sculler?
by Rowperfect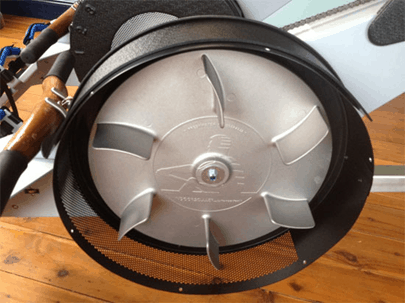 The new Rowperfect Indoor Sculler has been re-designed and re-engineered from the ground up.
It represents the end product of over fifteen years of thought, feedback and innovative design, and it revolutionises the world of indoor rowing.
Why is the Rowperfect Indoor Sculler so Different?
The new machine's mass is 17kg – exactly the weight of a racing scull and its oars.
So it feels just like a racing boat with SIX TIMES less pressure at the catch and finish compared to fixed rowing machines but quieter and smoother than the Rowperfect Classic.
The flywheel is mounted lower and centrally concentrating inertia and making the machine more stable when moved.
The new flywheel cage is made from quality moulded plastic combined with perforated aluminium.
The main bar is still produced from solid stainless steel, the same material which has seen many well-maintained Rowperfects around the globe operate for up to fifteen years without corrosion or material failure, but now the legs, the seat frame and all internal axles are also made from stainless steel.
Construction has specifically been targeted to reduce the injury risk and noise production of the original wire cage for all users while increasing the strength and durability for the high use environments of gyms and clubs.
It's also very easy to clean
The handle, padded seat, footplates and rear leg have all been completely redesigned – it is fair to say they are radically different to their counterparts on the original machine.
Aesthetically we have radically changed the appearance of the machine; our goal was always to live up to Mary Poppins' maxim:
"A thing of beauty is a joy forever"
"The machine works really well, bit like floating when I get it right …… Only had it for a day, but I think I've definitely made the right decision! Brilliant! Cheers"
"This ergo has been hugely beneficial to my son's training, he has cut his 2k time by 34 seconds in the short while that he has been using the Rowperfect and his time is still coming down."
Head Office
2/4 Moore Road,
Freshwater NSW 2096